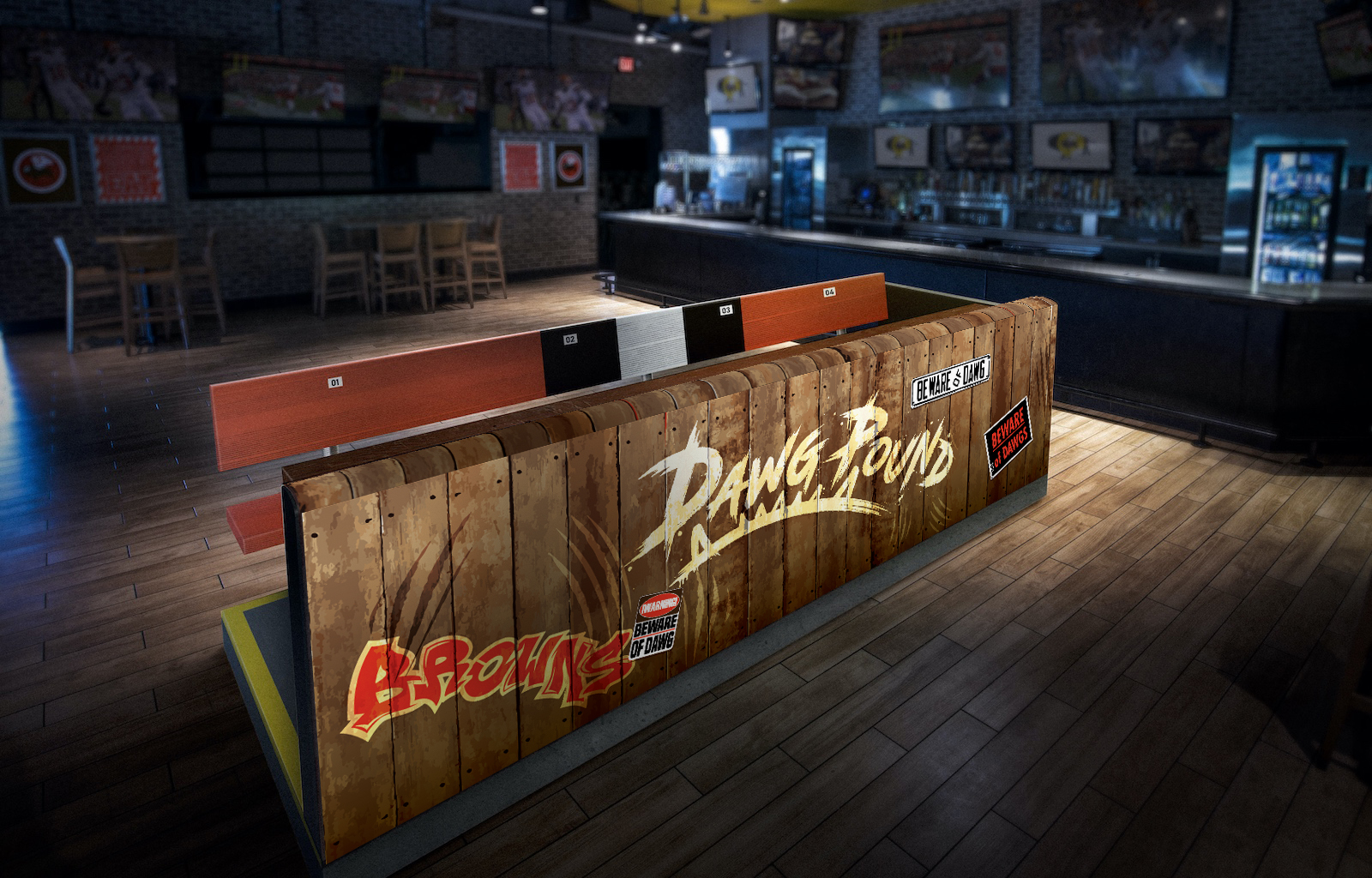 Dawg Pound Replica
How we brought the stadium experience inside ten Buffalo Wild Wings restaurants
Dawg Pound Replica
How we brought the stadium experience inside ten Buffalo Wild Wings restaurants.
SUMMARY
When a pandemic closed events worldwide, Buffalo Wild Wings brought the Cleveland Browns experience to the fans.
Through a regional push to BWW locations around Northeast Ohio, BWW and The Martin Agency focused on an element wholly unique to the Browns; the infamous Dawg Pound.
CLIENTS
Buffalo Wild Wings
Cleveland Browns
The Martin Agency
OUR ROLES
Designers
Fabricators
Logistics
CHALLENGE
The Martin Agency's client, Buffalo Wild Wings, wanted to launch a unique campaign to their restaurants. Martin's concept revolved around a scaled down version of the Dawg Pound, a Cleveland Browns staple.
By selling season tickets to the experience, each ticket holder was entitled to free wings, nachos, beverages, and exclusive swag along with a first class experience of watching the game in a mini Dawg Pound replica.
It was a requirement that 10 be created for 10 individual restaurants around Cleveland, and they had to all be delivered on the same day.
INSIGHTS
With covid lockdowns in full effect, Martin had to rely on a local team to build the Dawg Pound they envisioned, and in less than a month.
Upon first reviewing their designs for the 'mini Dawg Pound' we offered some creative feedback. The day after we first connected, we presented our reimagining of their initial mockup. We took into account the deadline, their goals and strategy, to quickly design and plan the construction of not one, but 10 exact copies of the mini Dawg Pound.
SOLUTION
Bring the Dawg Pound to the Fans!
Being Cleveland natives we saw a unique opportunity to represent our beloved Browns in a way that was as honest and pure as possible. That meant getting every detail exactly right, and making sure it was built to last a full season within a restaurant environment.
What we came up with was a three part design that could be easily disassembled and reassembled by a team of two, hold up to six months of abuse and represent the Dawg Pound as close as we could get.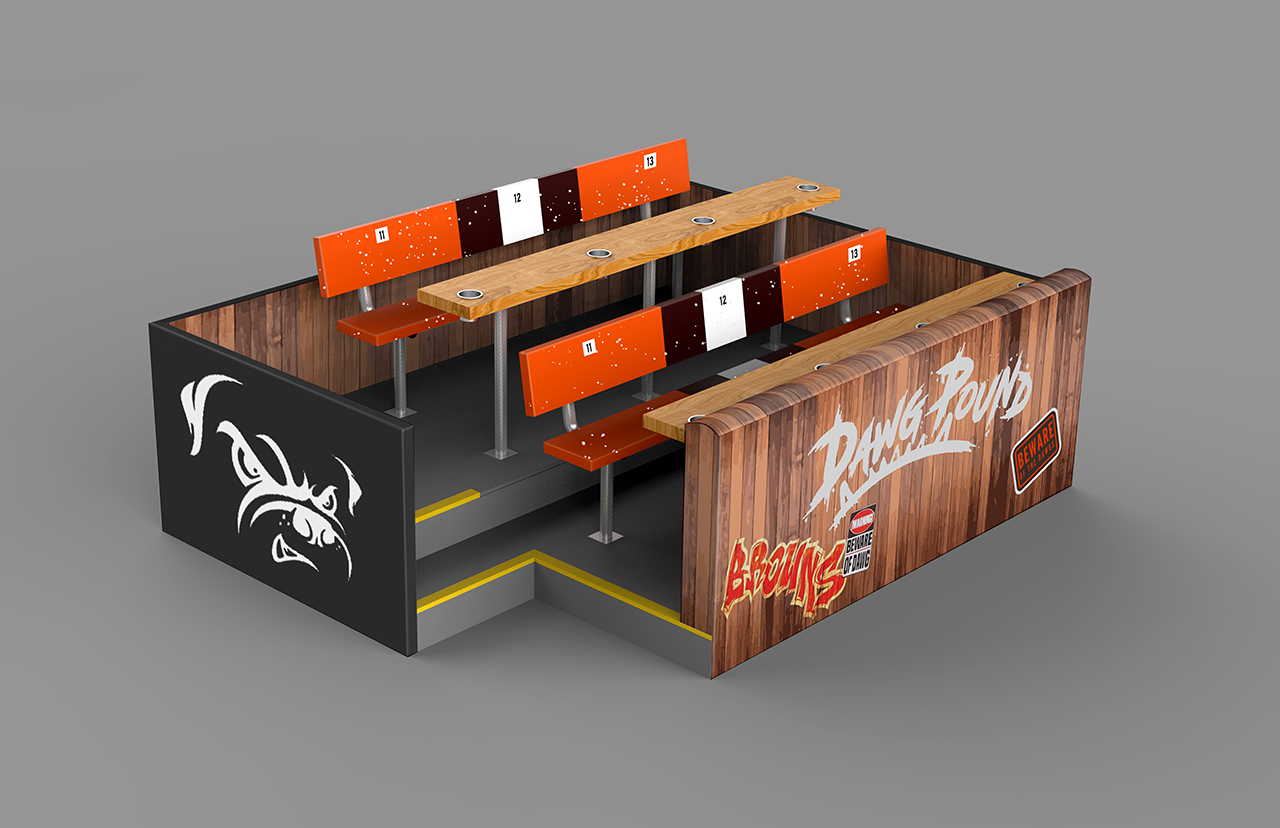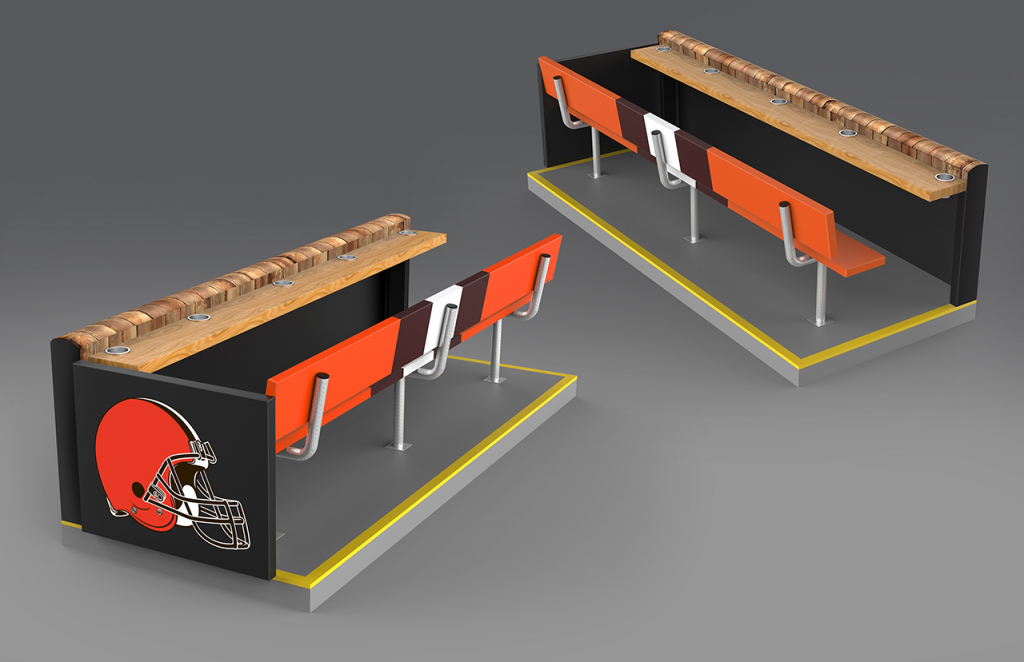 INSPIRATION
Here We Go Brownies, Here We Go! WOOF WOOF!
Fans of the Cleveland Browns are as diehard as they come. The official fan club known as Browns Backers Worldwide boasts over 360 chapters spanning 15 countries, including every US State.
Pioneered in the 80s, the staple of Cleveland Browns fandom is a section of the stadium behind the endzone known as the Dawg Pound. This is where the most ravenous fans cheer (and bark) for their beloved team. With fans unable to fill the Dawg Pound during a capacity restricted season, we brought the Dawg Pound to their local Buffalo Wild Wings.
Coupled with their fandom of the Browns, Clevelanders are a proudly blue collar city. "In Cleveland, nothing is given. Everything is earned."
We set out to combine elements of the mentality of Cleveland with the main branding elements of the Cleveland Browns. This meant nothing overly polished, sourcing local materials when possible, honoring the blue collar spirit, and lots of brown and orange.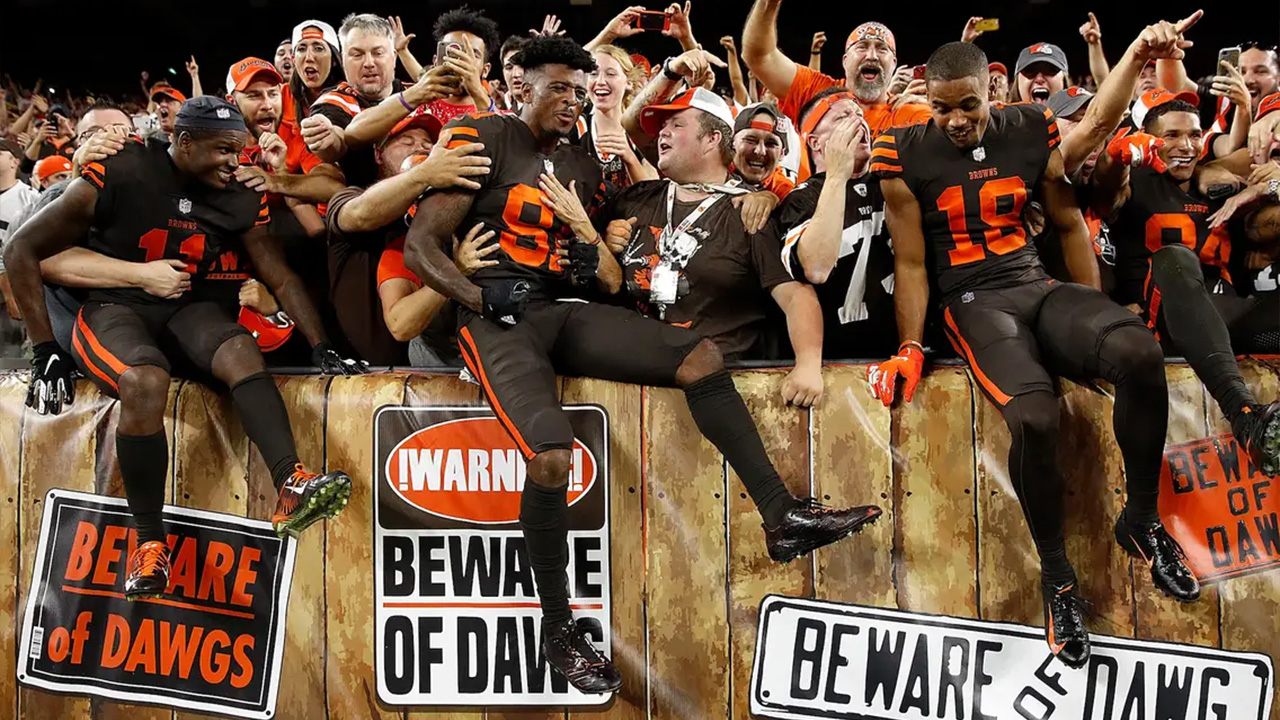 THE DESIGN
The final design uses the same graphics on the official Dawg Pound and is backed by foam to simulate the feeling of the actual wall. We designed a large, six person version (VIP) and a smaller four person version (MVP). With our limited time, we and Martin settled on the four person version.
Keeping in touch with the history of the Browns, we went with reclaimed bleachers sourced from a torn down high school gymnasium to make the table top. It was important that the experience felt like it was pulled from the stadium itself, including some basic wear and tear.
The side is capped off on the end to emulate the experience of 'filing in' to a seating arrangement when sitting. To top it off, we included cup holders built into the tabletop to give it another touch of stadium life.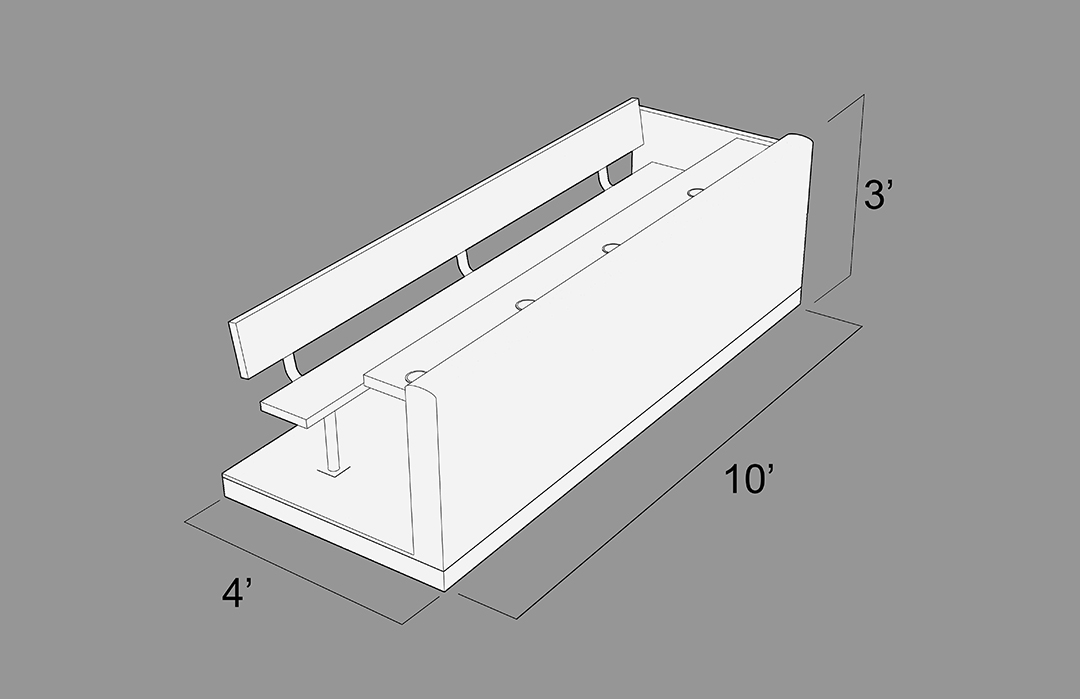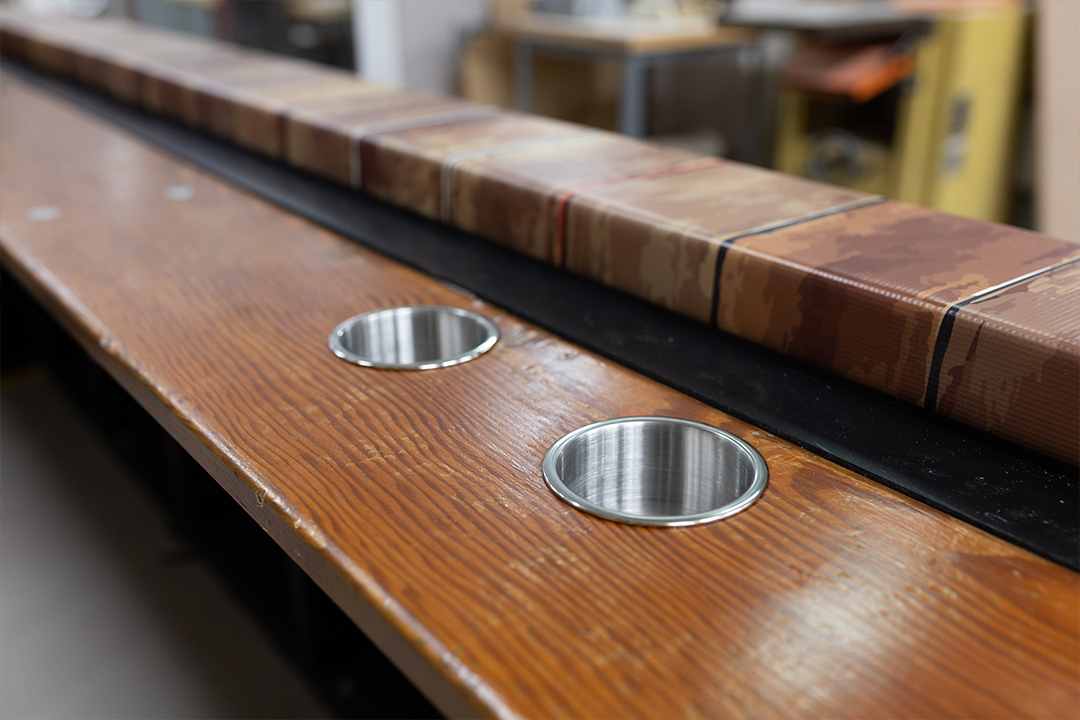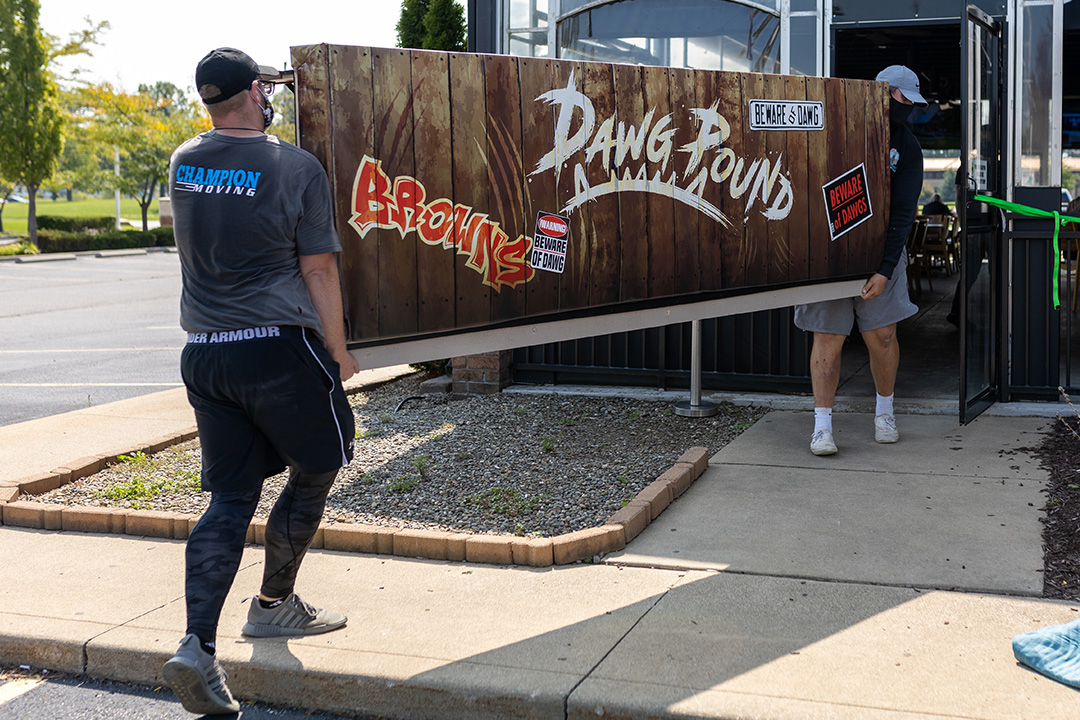 THE ENGINEERING
We first engineered them to be easily capable of disassembly and transport through standard doorways while being 10' long and 4' deep.
Of utmost importance was the process of building them out in phases to get done on time. Painting had to be done, graphics created and woodwork finished all in stages and in groups of 10 at a time.
These also had to hold up to any kind of abuse encountered at a restaurant, but also something that is the centerpiece of a rowdy environment you'd find watching a football game in a bar.
Each step and every consideration possible was accounted for and resulted in a supremely high-end experience built to last.
RESULTS + PRESS
On a brisk Saturday morning, September 12, 2020, we delivered all 10 MVP Dawg Pounds to 10 separate BWW locations. Using professional movers and two teams, each was fully assembled and ready before the Browns opening game.
They were so well received by BWW, the Browns, and fans, that all except two remained in the restaurants. Those chosen two were given away in a promotional event by the Browns.